The day was warm but very windy. High for the day was 80F. Wind out of the south at about 30 mph. Wind finally died down about 8:00 PM. Partly sunny all day. Sun very warm when it came out.
Day started at 9:00 AM with breakfast of biscuits and sausage gravy, potato crowns, fruit and muffins. Gloria made the biscuits and Cathy made the sausage gravy. Joyce has a large Bunn Coffee Maker and can produce large quantities of coffee in a short time, a nice addition to the campouts.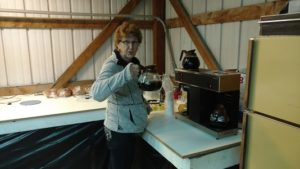 People sat around and talked or napped during the day. Lunch was on their own.
At 4:00 PM we had the Nodak Flickertails Club meeting. We went over the WIT Club of Excellence form. Being a small club we can't actually put on a Rally to meet the definition. We talked about doing things with clubs in adjoining states as we have done with South Dakota. We also talked about doing something with Adventure RV in Fargo. They are now Winnebago dealers, the only one in North Dakota. We also discussed the upcoming  June, July, August and September campouts. September is still undecided. June is Medora , July is GNR, August is Thief River Falls, MN. At the end of the meeting, we called Helen to see how she was doing. She is feeling better but still has pain in her arm that makes sleeping difficult.
At 6:00 PM we had dinner. Sloppy Joes, corn on the cob and salads. Cathy prepared the Sloppy Joes and corn. She did the corn in a cooler by pouring boiling water on it and letting it set for one half hour.
At 7:30 PM we played Bingo. 10 cents per card per game. Half of each game pot going to that games winner and half going into the final pot for the 8:30 PM game. Judy won two games and the final game. The final pot was $8.90.